To some the words Digital Marketing is ambiguous. What does Digital Marketing actually mean?

Digital Marketing is representative way to marketing and advertising your brand on the web. Yes, there are a lot components in the mix, but that is where we come into help. All businesses sustain different needs at different times. One business could be brand new and starting from the group up, another business would be looking to gain more exposure on the search engines. Another could want to push their online advertising bounds to reach more of their audience. Digital Marketing supports all of these businesses.

For those beginners out there, Digital Marketing is representative a few manner of managing your website's marketing and online visibility. This includes branding, how you are represented to your customers through your website, as well as how your customers interpret your businesses through different sources of advertising and exposure.

How can MGB Designs help sustain your online presence and Digital Marketing Strategy?


Search Engine Optimization
Search Engine Marketing - Pay Per Click Advertising Management
Social and Reputation Management
Display Advertising on Google Display Network
Email Marketing
Website Analytics - Geo-Tracking, Heat Maps, etc.
Business Blogging and more..

If you are interested in any or more of these services, we would love to speak with you about your specific needs.
We have supported businesses of all sizes, so please reach out to us with any questions.
Below is a little bit more information on some of the services.
More information coming soon!
SEARCH MARKETING

Search Engine Marketing Strategy, Approach and Implementation

We start our process by learning about your business or organization. The business evaluation form completed will help us get a general understanding of what you do and your sole purpose. From there we will begin to recognize and formula the best way to approach your audience based on your businesses goals. We strictly focus on your specific needs, because that is why you are utilizing our services. If we don't have enough information about your business and goals, we will contact you directly, via the email address submitted.Once we have a solid understanding and vibe of your business, we will begin to strategize how to approach your audience. The strategy is unique for each business and most importantly supports your business branding.

There is a lot of opportunity on the web and optimizatng your website is a great way to increase your visibility and create revenue. All businesses have their own goals for Search Engine Marketing, therefore Aura's develops customized solutions based on your businesses needs. Each search marketing strategy focuses on your particular needs; conversion, leads, traffic, direct sales revenue. It is never the same from one business to another.
MGB Designs is only of the only Vermont Search Marketing companies who provide specialized search marketing strategies. What sets us apart from the other guys is our customized strategy. There isn't another business in town that approaches search marketing as we do. That is why we are Search Marketing Professionals. Search Engine Optimization (SEO) is an investment, however is crucial to getting your business or organization found on the intenet. We would love to speak with you more about the opportunity.

SOCIAL SITE BUILDING

Everyone knows Facebook is one of the newest and popular applications on the web and it is important for your business to be listed there accurately. MGB Designs' can not only create a profile for you ( the administrator ) and your business, we can customize it to present your brand. Social Site Building is creating a micro site from the 'Page' application Facebook provides. Only a few select businesses can implement "New Pages" into your Facebook Business Page, and we know how to do that. The example shown to the left displays a Welcome Page and other service specific pages that allow this business to serve the most appropriate content to their customers. We can do this for you too. The more branded and relatable your "Facebook Page" is to your audience the more comfortable your cusomters will be to buy or utilitize your services.

Let us help you get started with Social Site Building. It is very easy to manage and we can easily manage this for you, if you have no technology experience.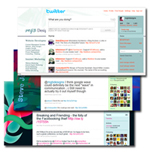 SOCIAL MARKETING

We start our process by learning about your business or organization. The business evaluation form completed will help us get a general understanding of what you do and your sole purpose. From there we will begin to recognize and formula the best way to approach your audience based on your businesses goals for social marketing. We strictly focus on your specific needs, because that is why you are utilizing our services. If we don't have enough information about your business and goals, we will contact you directly, via the email address submitted.

Once we have a solid understanding and vibe of your business, we will begin to strategize how to approach your audience. The strategy is unique for each business and most importantly supports your business branding.

TWITTER | FACEBOOK | YOUTUBE | BLOGGER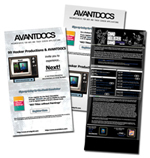 EMAIL MARKETING

We start our process by designing a template based on your brand and marketing initiatives. If you need assistance configuring your email branding or specific intiatives, we can help you with that. Our services cover all aspects of Email Marketing from start to finish - so whether you are just starting an Email Marketing campaign or need a new email template, we are here to assist you.

The email template will be design to approach your consumers effortlessly. A marketable approach will be taken based on your business needs. In the email layout you could do the follow:
Market your products / services
Events and Notifications
Sales and Promotions
News and Information